Digital

X-ray

system for higher quality of care for your patients
Digital radiography provides many advantages over conventional film that it's easy to see why practices are making the transition to digital dental X-ray systems. When your patients expect to find modern technology at your practice, the equipment you use shapes the way they perceive your practice.
When you go digital with Astra, you provide top-notch expert treatment and a higher quality of care to your patients—while improving the efficiency of your front and back office, saving you both time and money.
2D Digital Pan-Ceph
Looking for a good entry into digital radiography? The Panoura 18S offers affordable 2-in-1 digital pan and ceph diagnostic technology from the world's leading manufacturer of digital radiography cone beam equipment.
Astra offers the following 2D X-ray products at a very competitive price.
ImageWorks Panoura 18 S digital panoramic X-ray
Sharp panoramic X-rays for superior image quality
Capture mode options that best suit your patient diagnostic needs
Astra offers affordable digital radiography that's a perfect entry into digital panoramic X-ray imaging. The Panoura 18 S is easy to use, with a compact, freestanding design.
more +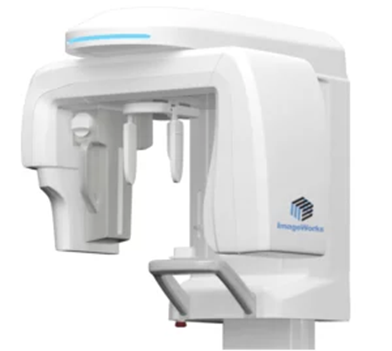 Superior panoramic X-ray imaging: All ImageWorks systems are designed to deliver superior image quality. The ImageWorks Panoura 18 S gives you clear, precise panoramic X-rays—so you can always deliver an accurate diagnosis to your patients.
Every scan captures over 50 different panoramic layers!
With most panoramic x-ray units, the arch of the patient needs to be exactly where the machine wants: along the path where the beam is focused.
If positioning is not precise, a poor image can result.
If the patient shifts slightly during the time the operator walks out to initiate the scan, a poor image can result.
If the patient's arch doesn't match the trajectory of the scan, certain anatomy may not be in focus.
The emergence profile of the anteriors could make it difficult to capture both mandibular and maxillary apices clearly in the panoramic scan.
Not only Bitewings, but an entire FMX!
Vertical bitewing feature as well as FMX Clipping feature creates 18 intraoral-sized images clipped from the pan with one click.
Ideal tool for patients who won't tolerate traditional PAs
Instead of taking 18 individual images with an intraoral X-Ray, they can all be generated at once in 14 seconds.
Affordable radiography upgrades: ImageWorks is the top provider of digital radiography equipment for dentists, and Astra's partnership with ImageWorks means excellent support and savings for you.
less -
Our hardware solutions can also help you with:
Questions?
We're here to help. Please call us at 800-368-6401 for assistance. For technology, press "3" then press "3" to reach our billing department.