X-ray software that integrates with your dental environment
When you purchase dental imaging software, you must consider more than just a single software product. You should also ensure that your dental X-ray software integrates with your practice management and clinical charting software.
Digital radiography provides many advantages over conventional film. When you go digital with Astra Practice Partners, you provide top-notch, expert treatment to your patients — while improving the efficiency of your office, saving time and money.
Advantages of digital radiography
Higher quality of care. Reduces radiation exposure by 75% or more. Patients will notice a higher level of care when you use digital X-ray equipment.
X-ray image enhancement. Adjusting the lighting and color, and enlarging images in real time, helps you detect diseases for faster diagnoses and greater treatment plan acceptance.
Enhanced X-ray image quality. Better image clarity and quality bring out tiny fractures and imperfections that may be missed on traditional film.
Fewer files cluttering office space. Eliminates the need to file and store hard-copy images. Along with more office space, you can quickly access digital images in a database from any network computer.
No chemical developers. Eliminates the need for automatic film processors. This removes harmful developing chemicals and fixing solutions, processing wait times, and the storage space they require.
Time and productivity savings. Reduces the long processing time of conventional radiography to seconds. Plus, your X-ray images are instantly stored and ready to view on your computer.
Quick image sharing. Sends images to other practitioners in just moments. The result is better, faster collaboration between you and other dental professionals.
No more lost images. Eliminates the risk of losing important radiographs. And when used with a redundant backup system, your images are safely stored.
Easier to use. With just a small amount of training, dentists and their staff agree that digital radiography is easier, cleaner and faster than conventional radiography.
Astra guides you with expertise and support throughout the dental imaging software buying process, from start to finish. Our experts will help you choose from among the top dental imaging software, select digital X-ray equipment, install components and train your staff.
Check out the following imaging products most recommended by Astra.
XDR imaging software
Interfaces with standard video devices (intraoral/extraoral cameras and TWAIN-compliant devices)
Open architecture makes it easy to exchange digital dental information
Simple, intuitive and ergonomic interface
XDR imaging software works with all major practice management systems. It interfaces with standard video devices, including intraoral cameras, digital extraoral cameras and TWAIN-compliant devices.
more +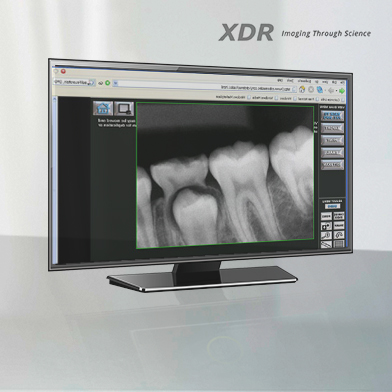 XDR imaging's open architecture makes it easy to exchange digital dental information. XDR software also provides a simple, intuitive and ergonomic interface and safety features that guard against data loss in the event of computer failure.
less -
Our hardware solutions can also help you with:
Questions?
We're here to help. Please call us at 800-368-6401 for assistance. For technology, press "3" then press "3" to reach our billing department.